Tiramisu
---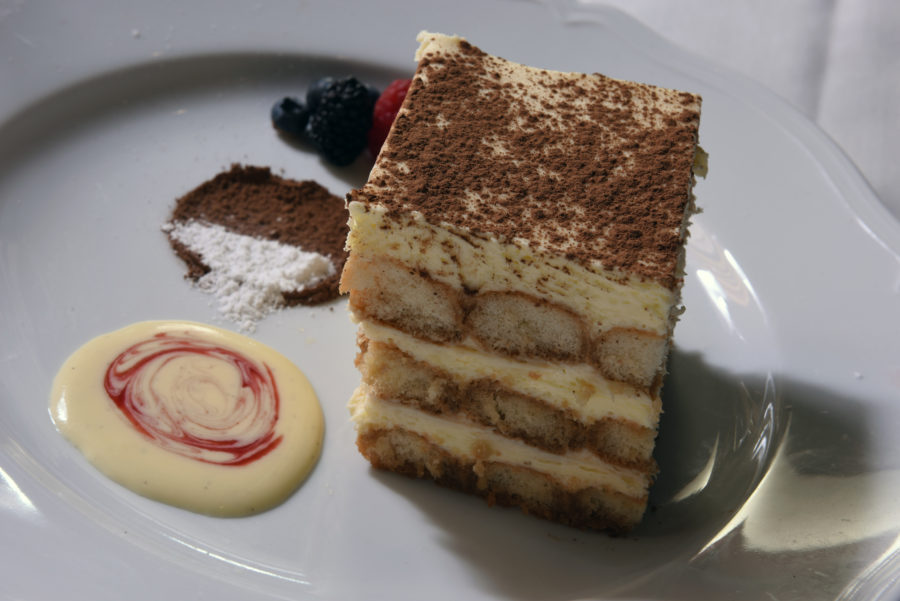 2 lbs Mascarpone Cheese
1 ¼ cup Pasteurized Egg Yolks
½ lb Sugar
3 oz Frangelico
1 500 gram package Ladyfingers
3 cups Espresso
½ cup Sugar
½ cup Kahlua
¼ cup Frangelico
Cocoa Powder for dusting
Combine egg yolks, sugar, and Frangelico then whip on high until full volume (approximately 5 minutes).
Add the mascarpone cheese to the egg mixture and whip just until fully incorporated. Combine the espresso, sugar, Kahlua and Frangelico.
Dip the ladyfingers into the espresso mixture quickly and layer in the bottom of a ½ hotel pan.
Divide the mascarpone cream into equal 1/3rds and evenly spread the first 1/3 over the ladyfingers. Repeat this procedure until you have 3 layers of ladyfingers and 3 layers of cream.
Refrigerate for 2 days to allow the ladyfingers to absorb moisture from the cream. After the 2 days dust the top with cocoa powder, cut portions, and enjoy!