Flourless Chocolate Cake
---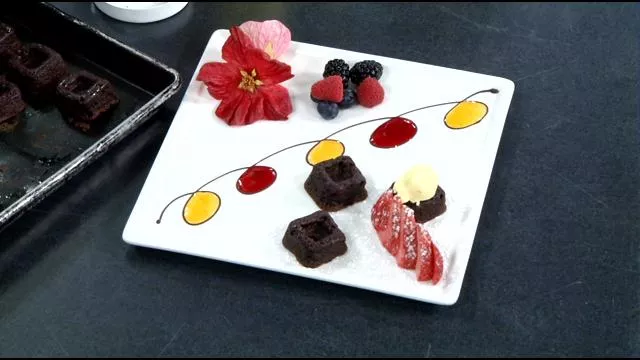 Served with Housemade Saffron Gelato and Fresh Berries
Flourless Chocolate Torte
Makes 4-6 Servings
1 stick unsalted butter
¼ pound semi sweet chocolate
1 ½ ounces Orchata (rum cream liqueur)
½ teaspoon vanilla extract
2 eggs
¼ cup sugar
In a small sauce pan, melt butter and chocolate on low heat. Remove from heat and add Orchata and vanilla. Whip eggs and sugar until frothy and stir in melted chocolate while still warm.
Shake and tap bowl to remove as many air bubbles as possible.
Pour batter into a sprayed silicone mold and bake for 10 minutes at 300 degrees.
Let cake completely cool before turning out.
Bourbon Chocolate Sauce
1 cup cream
1 Tablespoon brown sugar
4 ounces semi sweet chocolate
2 ounces bourbon
1 Tablespoon vanilla extract
In a small sauce pan, bring cream and brown sugar to a boil. Remove from heat and stir in chocolate, bourbon and vanilla.
Saffron Gelato
makes 1 ½ quarts
2 cups cream
2 ½ cups milk
1 vanilla bean, split
3 cups milk
¼ cup cornstarch
1 ¾ cup sugar
Pinch of saffron
Place in a bowl and sit aside.
In a medium saucepan, over high heat, bring milk, cream & vanilla bean to a boil. Remove from heat. Slowly add hot cream to milk, sugar, cornstarch mixture and return to pan.
Cook on medium heat until thickened, stirring constantly. Remove from heat and add saffron.