V

olare
Team
At Volare Italian Ristorante, everyone works collectively to provide each guest with extraordinary service and an exceptional meal. From our experienced team of dedicated servers to our talented chefs, it is our goal to satisfy every aspect of your dining experience. Volare, which means "to fly" in Italian, is a fitting namesake for a dining experience that soars beyond the ordinary. Come experience the ultimate in dining at Volare.
---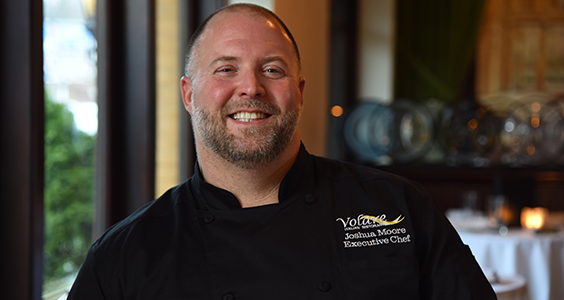 Joshua Moore
Executive Chef and Managing Partner
Joshua Moore, Executive Chef and Managing Partner at Volare Italian Ristorante knew that he wanted to be a chef as soon as he could reach his grandmother's stove. Seven years later, at the age of fourteen, Joshua was working in a professional kitchen. He started his career as the pastry assistant at Vincenzo's Italian Restaurant in Louisville.
Moore's creativity and strong work ethic helped boost his career into other top kitchens in the city, such as Porcini's and Wildwood Country Club. Along the way, Chef Joshua Moore has cooked for Muhammad Ali, Robert DeNiro, Al Pacino, Jack Nicholson, Drea de Matteo, Micheal Imperioli, the Prince of Monaco and Coach Calipari and the entire 2012 UK Championship basketball team. Not only is he trained in the art of French sugar pulling and blowing, he is a talented ice carver as well.
He has been Executive Chef and Executive Pastry Chef (a rare combo) of Volare since 2005. Through hard work and dedication, he became a partner in 2008. "I love Volare from top to bottom; my kitchen staff, front-of-house staff, dedication to the highest food quality and the guests make this the best place to work." Chef Moore explains.
Chef Moore's passion for food starts with the food itself. He has a 10-acre working farm in Taylorsville, Kentucky where he harvests vegetables from March through November strictly for Volare's kitchen. He doesn't leave his passion for cooking there. Chef Moore has a commercial-grade kitchen at home where he and his wife entertain friends and family.
"I love what I do for a living, I never wake up and say 'I don't want to cook today' it's a gift to love your work," stated Moore. "Growing produce on my own farm really presents the perfect farm to table dining experience that is so important in the restaurant industry today," he added.
For Moore, cooking is a combination of creativity, artistry, skill and passion. He is very involved with philanthropy throughout the Louisville community, with organizations such as Norton Children's Hospital, Dare to Care and Guardia Care. His dedication to the community, has also afforded him the opportunity to work with March of Dimes as their lead chef, since 2008, at the annual Signature Chef event. The event has raised over two million dollars thus far.
Chef Moore's passion for food and philanthropy has garnered him many rare opportunities; such as cooking at the James Beard House in New York City in 2013, cast as a regular on the television show Secrets of Louisville Chefs, serving on the board for the Kentucky Restaurant Association along with being chairman of the board in 2014, and inclusion on the Business First Forty under 40 list in 2012. He also serves as a Brand Ambassador for Certified Angus Beef. This is a group composed of the finest chefs and restaurateurs around the world, who are all committed to serving the finest quality of beef. This partnership has allowed Chef to work side-by-side with industry-renowned meat scientists and ranching professionals locally and across the country for the past seven years as well as serving as a guest chef at many nationally recognized hotels and destinations across the country.
For his last meal, Chef Moore would order a dry aged Certified Angus Beef rib eye, prepared to medium rare and a side of vegetables grown on his farm.
Josh is married to his partner in cooking, farming and life, Lindsay. Together they are parents to Gibson, who shares his dad's impeccable palate and is learning how to grow only the best heirloom tomatoes.
---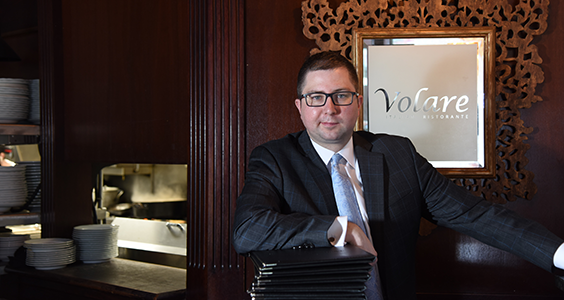 Jonathan P. Tarullo
General Manager and Managing Partner
Jonathan Tarullo, General Manager and Managing Partner at Volare Italian Ristorante began his journey into fine dining management at the age of fifteen, washing dishes at a local Louisville restaurant after school. This, along with his love of food ultimately led him to a full time career in the food service industry having served in several key positions at some of Louisville's top dining establishments.
Like all great leaders in the restaurant industry, Tarullo is intimately familiar with all aspects of restaurant operation. He has performed virtually every restaurant job imaginable – from server, to Maitre D', from bartender to beverage specialist and now General Manager and Managing Partner. These diverse experiences have given him the depth and perspective to be an effective manager with a comprehensive knowledge base, a high level of empathy, and a refined service-oriented approach towards guests dining at Volare Italian Ristorante.
"I am so honored to be a part of the Volare team and to have the opportunity to work with one of the most successful restaurateurs in the industry," stated Tarullo.
Under Tarullo's leadership, Volare and its staff are committed to providing superior service, the freshest ingredients, many of which are locally grown in the Chef's garden, and a warm and inviting atmosphere. Further, Volare is committed to a deeply rooted community and supports many local nonprofit organizations throughout the year.
Once again in 2018, readers of Louisville Magazine have named Volare Italian Ristorante, "Best Italian Restaurant." Through Tarullo's leadership Volare has now celebrated three consecutive years as the reader's favorite.
Named one of Business First's "Twenty People to Know," Tarullo's previous work in the Louisville restaurant scene has sharpened his skills in dining management, guest relations, private event coordination, and wine and spirits acquisition. His passion for overseeing the day-to-day operations of Volare is matched only by his abiding love for great food and drink. A member of the Bourbon and Food Committee and the DiRona Committee, Tarullo is committed to maintaining Volare's exquisite tastes.
Under Tarullo's tutelage, guests can expect a thoughtful and unique dining experience. Tarullo's long history in the industry will prove invaluable to Volare, as it continues to provide outstanding flavors in an inviting atmosphere.
Jonathan and his wife Danielle reside in Louisville with their son Jackson.